Carriage & Hay Wagon Rides
per person
"Carriage Me Away" Wagon Ride for 2 What better way to enjoy the beauty and serenity of the Southwest than on a private carriage ride with your sweetheart? Or do you want a great romantic evening? This signature 45 minute ride is perfect for engagements,…
"Carriage Me Away" Wagon Ride for 2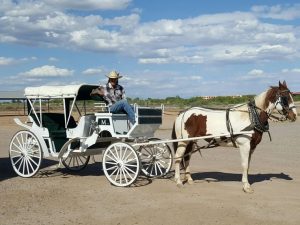 What better way to enjoy the beauty and serenity of the Southwest than on a private carriage ride with your sweetheart? Or do you want a great romantic evening? This signature 45 minute ride is perfect for engagements, anniversaries, birthdays, or that special date. We will provide you with much needed time to reconnect in serene and beautiful surroundings. If you want to bond with that special someone, there's no better way than on a "Carriage Me Away" Ride for 2.
This Special Carriage Ride is a 45 minute ride for adults at $75 per couple. You may add an additional person for an extra $25.
Carriage Rides have limited availability so click the BOOK YOUR RIDE button and book your ride now.
Hay Wagon Rides
Enjoy a hay Wagon Ride at Koli Equestrian Center, located in the heart of the Gila River Indian Reservation and adjacent to The Sheraton Grand at Wild Horse Pass. We are located on the west side of the hotel, which is directly behind it. We look forward to out of town guests, as well as our local communities. If you are looking for relaxation and fun Koli Equestrian Center is the place to be,book your ride today where a great staff and gentle horses are waiting for you…
Duration of Ride:
Approximately 45 minutes
Price: $25.00 per person.
***Reservations are required 24 hours in advance and there is a 5 person minimum***